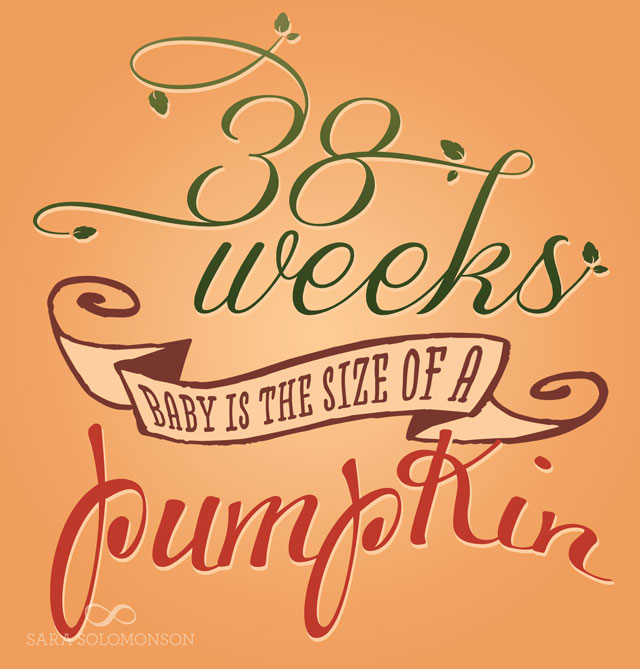 How far along? 38 Weeks
Total weight gain/loss: +25.8
Symptoms? Cramping pretty often, clumsiness, back aches, occasional headaches and nausea (mainly at night)
Sleep: Sleeping much better, just having a hard time actually falling asleep. A lot on my mind I suppose haha!
Best moment this week: Baby shower Fiesta! It was so good to see so many friends and family, both from in and out of town! And a huge thank you to my kick-ass friends Kathryn, Becky, and Annie for throwing such a great shower!
Miss Anything? I've decided my first post pregnancy meal MUST be sushi! Yes….spicy tuna roll with wasabi! YUM!
Movement: Well, after I thought the movement was slowing down, she is back again, kicking full force! She wants out!
Food cravings: Last night, Drew went out at 11:30 to get me Taco Bell! Yes 4th meal!! Have I ever mentioned how great my husband is to me?
Anything making you queasy or sick: Just feeling a bit nauseous at night on occasion.
Labor Signs: Cramping and lightening crotch (there must be a better term for this?). Drew and I went to my 37 week appointment last Friday, where my doctor checked my progression. Starting to thin out and about a fingertip dilated! At first, she wasn't really sure as to what position she was in, so we got to have a short ultrasound just to check the position! Baby girl is head down, but just had not dropped far enough yet for the doctor to feel! Could have fooled me. I feel like her head couldn't get any lower!
Belly Button in or out? Flat!
Wedding rings on or off? Off.
Mood: Anxious and excited! Could be any day now!
Weekly Wisdom: Towards the end, you just have to take it one day at a time. There will be good days and there will be days that are much harder. Surprisingly, I have MUCH more good days than bad, so I'm thankful for that!
Looking forward to: 38 week appointment tomorrow AND the Madam will officially be here on her extended vacation on Sunday morning!