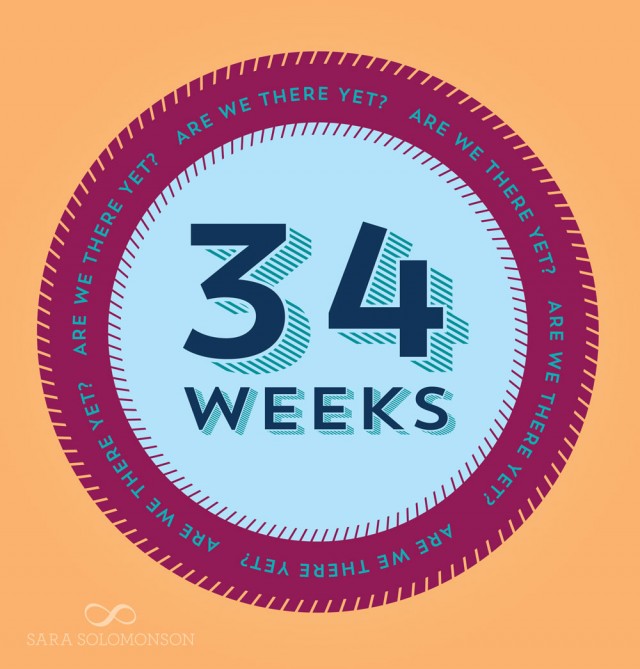 How far along? 34 Weeks
Total weight gain/loss: +20.2
Symptoms? Back aches! I am really just past the point of ever being comfortable again until little miss is due. I think we are in the same boat…..she's just kicking and moving just try to make herself comfortable. I'm sure she's just ready to be out of there! 6 more weeks and you have my permission to make your appearance!
Sleep: Sleeping well, considering I'm at the end of my pregnancy in the middle of the summer. I have had a few cases this week of waking up around 4 and not being able to fall back asleep.
Best moment this week: Relaxing, crafting, and a mexican lunch date with Becky, Annie, and Kathryn (who are throwing Drew and I a FIESTA baby shower in a few weeks!). I can't wait for the queso wrestling!
Miss Anything? Pre-pregnancy mobility! And beer. Oktoberfest is right around the corner people! Hobby Lobby already has all of their fall (and some Christmas) decorations out!
Movement: Feet and butt in the ribs and hiccups down below! She's getting cramped in there.
Food cravings: Anything bad for me. Ice cream. McDonalds french fries. Chocolate chip pancakes with BACON!
Anything making you queasy or sick: Not this week!
Gender prediction: Bows!
Labor Signs: Not that I'm aware of. An occasional cramp, pinch, jab….but I'm sure all that is normal.
Belly Button in or out? Flat as a chocolate chip pancake!
Wedding rings on or off? Officially off. Boo. They still fit, but if I am hot for any more than 30 minutes, they get pretty tight. Just don't want to chance it.
Mood: Just irritated a lot. My reactions to all my pet peeves have been multiplied by 10!
Weekly Wisdom: Looking back, this pregnancy has really gone by quicker than I thought, especially the 2nd trimester on. As uncomfortable as you are and as much as you want to meet your little one, enjoy your time being pregnant. It's really amazing how it has all happened and progressed and for it to suddenly be over after 9 months is kind of sad. Don't wish the time away.
Looking forward to: My best friend's wedding this weekend! And yes, I am IN the wedding! Rocking heels at 34 weeks pregnant! Ready to see Miss Heath and Mr. Grass get hitched!