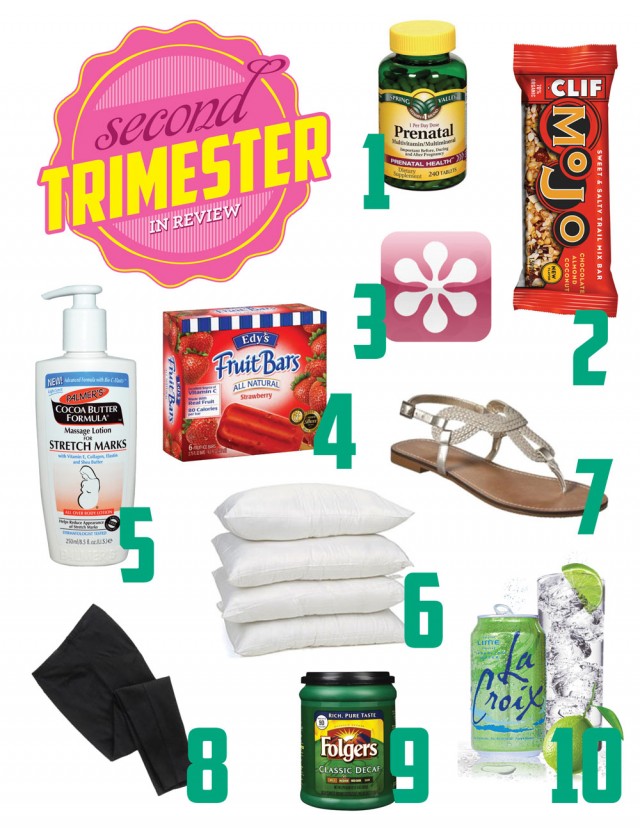 Winding down my 2nd Trimester this week, here are just a few things that helped me get through the middle 14 weeks of pregnancy!
1. Prenatal Vitamin – Still going strong on my prenatal vitamins, taking one each morning to make sure little girl is getting as many nutrients and vitamins as she can!
2. Clif Mojo Bars – One of my favorite snacks at work in between lunch and leaving at 6:00 to go home for dinner. By the time I finish lunch and finally get home to make and eat dinner, it is a good 6 hours between meals. These are good to eat as an afternoon snack and keep me going during the last few hours at work. My favorite are the sweet & salty trail mix bars with chocolate, almond, and coconut!
3. Baby Names App – Although Drew and I have had our list of names from the very beginning, this app has been great to go through and narrow down our choices. And to see if any others pop out at us. The app gives you the origin and meaning for each name, as well as lists the popularity each year from the late 1800's until now!
4. Frozen Whole Fruit Bars – Like I said before, any cold sweet has definitely been on my list of cravings the past few weeks. These are easy to grab and eat, contain whole fruit, and are a whole lot healthier for you and baby than a bowl of ice cream or those chocolate chip cookies in your pantry. (Not that I don't have my occasional bowl of ice cream ever so often!)
5. Palmer's Cocoa Butter – I lather myself up in this stuff every morning after a shower, and occasionally at night whenever I'm feeling extra dry. And it smells good enough to eat! (Don't worry, I haven't tried) So far so good. Let's hope this stuff keeps those stretch marks away!
6. Pillows – Pillows, pillows, and more pillows! The bigger my belly gets, the more pillows I want! Right now I am at 2…one for my head and one for my belly. I feel a third coming on once my legs start becoming uncomfortable.
7. Sandals – One great thing about being pregnant in the summer is the fact that I don't have to worry about bending over to tie my shoes that often. I can just slide these babies on and I'm out the door! Not to mention, with some swollen feet in my future, I'm sure I will be thankful for these even more so!
8. Old Navy maternity leggings – The most comfortable pants ever! They have a full front panel that just sits above my belly, so I never have to worry about yanking up my pants. I'm sure I will be living in these every day for the last couple of weeks!
9. Decaf coffee – Being a coffee lover from the beginning, it was pretty hard to give up my morning coffee before work. Once the first trimester was over, I began drinking decaf ever so often at nights. Just makes me feel warm and cozy!
10. La Croix Water – My friend Jenni introduced me to La Croix and ever since, I've been hooked! It's a great alternative to soda, with no added "stuff"….no sodium, no calories, and all natural flavors. Basically just carbonated water with a splash of fruit flavor. My favorite are the lime flavored waters.