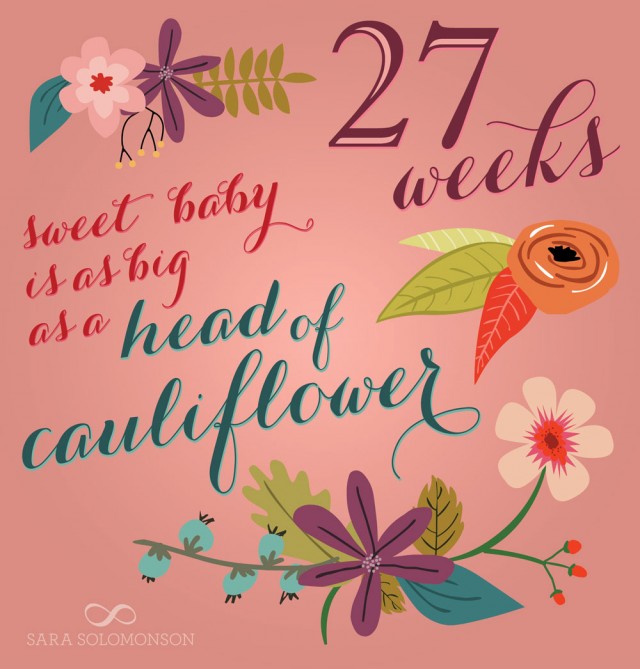 How far along? 27 Weeks
Total weight gain/loss: +14
Symptoms? Round ligament pains have been better this week! Feeling a bit breathless whenever I climb stairs or do anything remotely active.
Sleep: Sleep is great! With my occasional trips to the bathroom of course.
Best moment this week: A fun weekend seeing friends at Will and Emily's wedding and Becky's baby shower! Tuesday night, Andrew finally got to feel some good kicks. Little girl was having a dance party of her own as we were watching So You Think You Can Dance.
Miss Anything? I would love a good Leinenkugel Sunset Wheat or Dos Equis Amber with lime!
Movement: Very active! I got a few good kicks in the ribs the other day at work. Ouch!
Food cravings: Nothing crazy. On the Border southwest chicken tacos. Not to mention, their salsa is my all time favorite!
Anything making you queasy or sick: A bit if I get overheated or haven't had enough water.
Gender prediction: Bows!
Labor Signs: Nope! We did however pre-register at the hospital so they will have all of our information before we even arrive. We also scheduled our tour of the Women's Center at the hospital where we will be having baby Solomonson! They will basically go through all the information we will need of where to go, who to talk to, where to park, etc on the day of delivery so we are not guessing as to where we need to be. And you know me, I'm a planner, so knowing all the information I can will only make things better and make me feel more comfortable.
Belly Button in or out? Shallow, but still in!
Wedding rings on or off? On!
Mood: A little moody lately…..partly due to the heat and having so much on my mind with getting everything ready in advance of little girl arriving. Oh! And there is nothing like going bathing suit shopping while pregnant to make you feel good about yourself. Holy cow! I gave in and decided to get a maternity swim suit so I could at least spend some of my summer out at the pool with Andrew. Maybe get a little color to my white self!
Weekly Wisdom: There is such a thing as TOO much information. Be careful not to read too much into every little pinch, pain, and complication that could happen during pregnancy. Every pregnancy is different and instead of worrying about what COULD happen, enjoy the time and the changes that are happening in the moment. It doesn't last forever. Have fun with it and make fun at the fact that your boobs just grew two sizes and your belly is so big, you can't even bend over to paint your toenails. (I need to take this advice more often)
Looking forward to: De-cluttering the house! Emptying out the closets, getting rid of the stuff sitting in boxes that we said we may need eventually (that actually hasn't been touched in 5 years). And maybe even a trip or two to the pool if the weather cooperates! Time to get some sun!