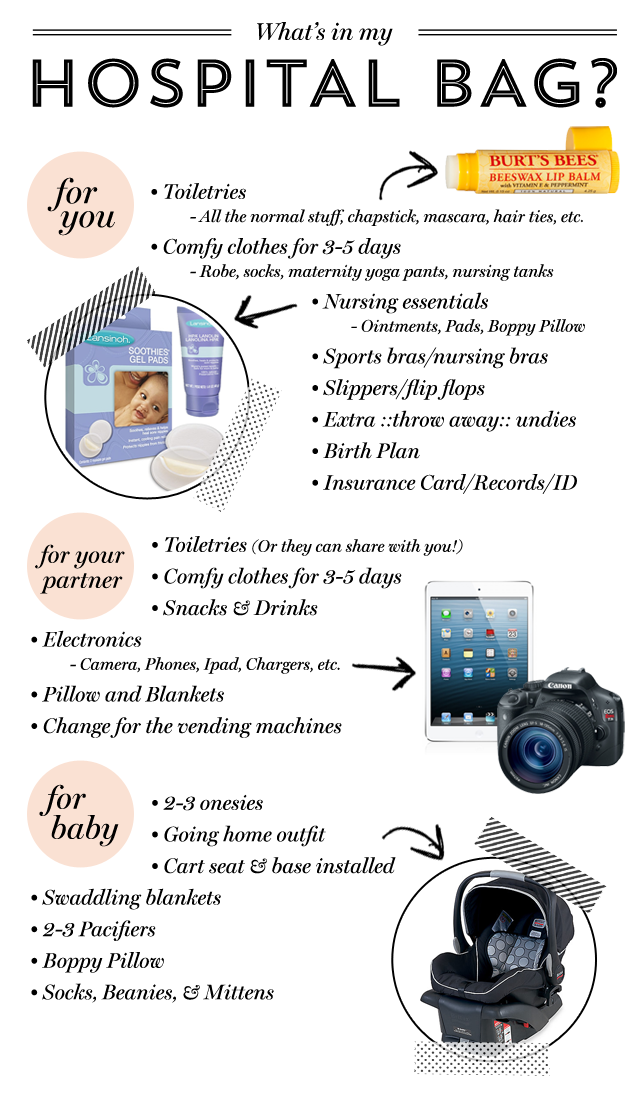 Right before we had Ellen, there was always the question of the hospital bag. When did we need to start packing? What all did we really NEED to bring? What does the hospital provide? I would say we did a pretty good job covering our bases and actually packed a lot more than we actually ended up using.
The hospital provides 90% of what baby will need. So the cute onesies, blankets, beanies, etc. aren't really NECESSARY to bring, unless you want something cuter for baby to wear or be wrapped in. All diapers, pacifiers, onesies, blankets, socks, etc. were provided. (at least at our hospital)
For you and your partner….it's all about comfort. And don't put yourself in anything you don't mind throwing away. Socks, stretchy yoga pants, slippers, and a robe are key! And if you are particular about pillows/blankets, you can bring your own.
If you have a longer labor, you can bring a few things to make the time pass quickly while you are there: iPAD/Computer with loaded movies, a camera (because you can never take too many pictures), your phones, and chargers. Also bring some change for the vending machines in case you get hungry at 3 in the morning like me! I remember wanting a cheeseburger SOOO bad after delivery, but had to settle for some crackers and juice until I could get my hands on some real food.
Our experience was so much better than I could have imagined and I am hoping it will be just the same, if not better, once we are ready for round 2!