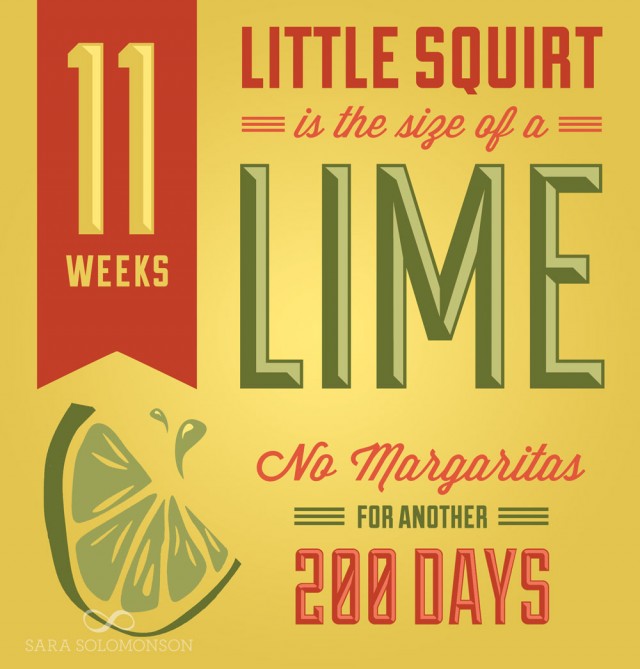 How far along? 11 Weeks
Total weight gain/loss: +0
Maternity clothes? Not quite yet…..skinny jeans are getting a bit tight around the waste. May need to invest in a belly band pretty soon!
Stretch marks? Nope!
Sleep: Still constantly tired. I have a good 2 hour window in the morning when I am pretty awake, but otherwise, just plain tired. Attempting to get at least 8 hours a night.
Best moment this week: Wednesday night dinner with Drew! Ipp's Pastaria in downtown Woodstock. Best garlic rolls I've ever had! YUM!
Have you told family and friends: Close family and friends! 12 week appointment in just a few days!
Miss Anything? Margaritas!
Movement: Not yet
Food cravings: On the Border Southwestern Tacos, Jimmy Johns sub, and I've gotten a sweet tooth! Watch out!
Anything making you queasy or sick: Nothing in particular. Sometimes I get a loss of appetite and the thought of eating in general makes me queasy.
Have you started to show yet: Nothing noticeable. A little bulge in the front, but looks like I just ate a really large meal.
Gender prediction: Still a girl feeling.
Labor Signs: No thanks!
Belly Button in or out? In
Wedding rings on or off? On
Happy or Moody most of the time: Happy! I have an occasional day where I just feel like bum, and don't want to do ANYTHING.
Weekly Wisdom: Enjoy the time you have together with your significant other. This is the last few months it will ever be just the two of you.
Looking forward to: 12 week appointment and seeing Mom and Dad this weekend in Nashville! Mom is coming back to Atlanta with Drew and I for a week to hang out through the weekend, so we should have some fun stuff to do this next week!