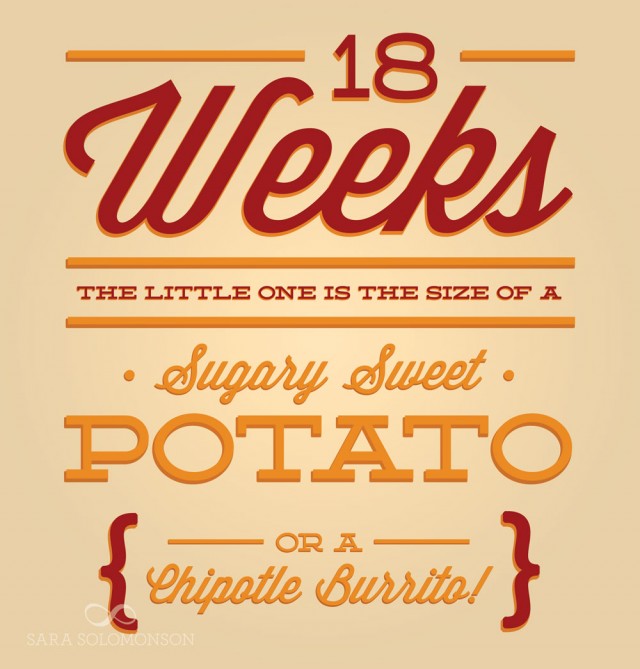 How far along? 18 Weeks
Total weight gain/loss: +5.2 WHOA Weight gain!
Maternity clothes? I must have had a growth spurt this past week…..all my clothes are now pretty tight to the point of being uncomfortable. Time to go shopping!
Sleep: Sleeping better this week. But I have been a bit more tired, always getting really sleepy around 3 or 4 in the afternoon.
Best moment this week: Seeing Conan O'Brien was pretty awesome! As well as watching the season premier of Game of Thrones and season finale of The Walking Dead! Seriously, how has the Governor managed to survive this long without someone putting him down?!
Miss Anything? Had a big craving for sushi earlier this week! I'll tell you the best sushi I have had in Atlanta has to be the Orient Express in the Vinings! Great food and a great atmosphere.
Movement: Still waiting for a good flutter! Every once in awhile I will feel a little squirmy.
Food cravings: Sushi!
Anything making you queasy or sick: Nope!
Have you started to show yet: For sure!
Gender prediction: Girl, although I'm starting to have my doubts.
Labor Signs: Nope!
Belly Button in or out? In
Wedding rings on or off? On
Mood: Happy and excited for what's to come!
Weekly Wisdom: Don't stress about getting EVERYTHING done in the next 5 months. Make lists and take it slow!
Looking forward to: SAPA Championships this weekend in Chattanooga!