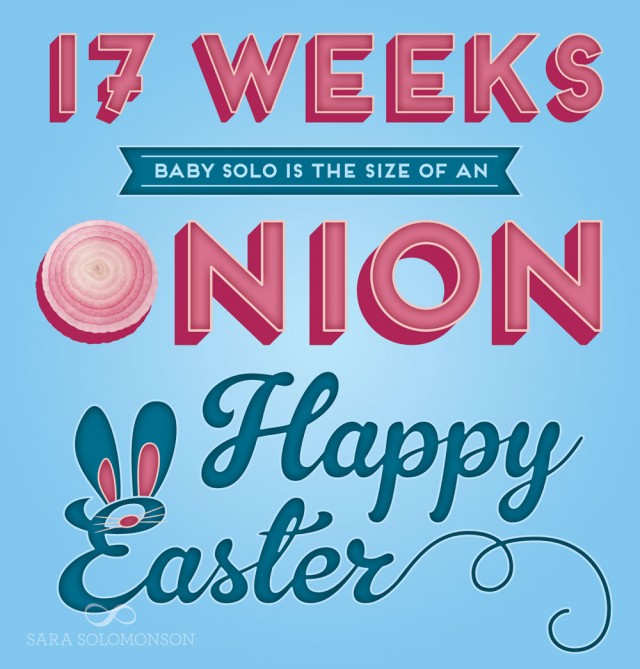 Wow! Almost to halfway! Lots of stuff done this week (Taxes…ugh) and lots to look forward to in the next couple of weeks! SAPA Championships and WGI World Championships in Dayton with the Pope Greyhounds! woot! And our 20 week gender scan on the 15th!
Hope everyone enjoys their Easter weekend with friends and family!
How far along? 17 Weeks
Total weight gain/loss: +2.8
Maternity clothes? Still fitting into my normal clothes (some better than others), but I have my maternity jeans and tights ordered and ready for when I have to make the big switch!
Sleep: Tossing and turning a lot! Occasionally, I'll wake up around 3 or 4 and will have a hard time getting back to sleep. Probably mother nature's way of preparing me for little squirt to get here!
Best moment this week: Having a moment to myself to relax! Drew was away at a Regiment camp this weekend, so on Saturday night, I stayed in and caught up on all of my shows I have on my DVR from the past 3 weeks. Also watched Extremely Loud and Incredibly Close. Great movie and I've heard the book is even better! It's always good to get some "me" time every once in awhile. Although I did miss Drew a ton!
Miss Anything? Would have been nice to have a glass of wine during my "me" time!
Movement: Still nothing definite yet. Should be any day now! (so I hear)
Food cravings: Cracker Barrel…..still….and anything Mexican! Moe's, On the Border, and my favorite El Porton!
Anything making you queasy or sick: I think we are in the clear! No sickness this week!
Have you started to show yet: Yes indeed!
Gender prediction: Girl…..although everyone I ask thinks Boy. Only 2.5 weeks left!
Labor Signs: Nope!
Belly Button in or out? In
Wedding rings on or off? On
Mood: Happy and anxious. A lot of look forward to in the next 3 weeks! SAPA Championships, WGI World Championships, and our 20 week gender appointment!
Weekly Wisdom: Take some "me" time every once in awhile!
Looking forward to: Game of Thrones premier on Sunday as well as the season finale of The Walking Dead!